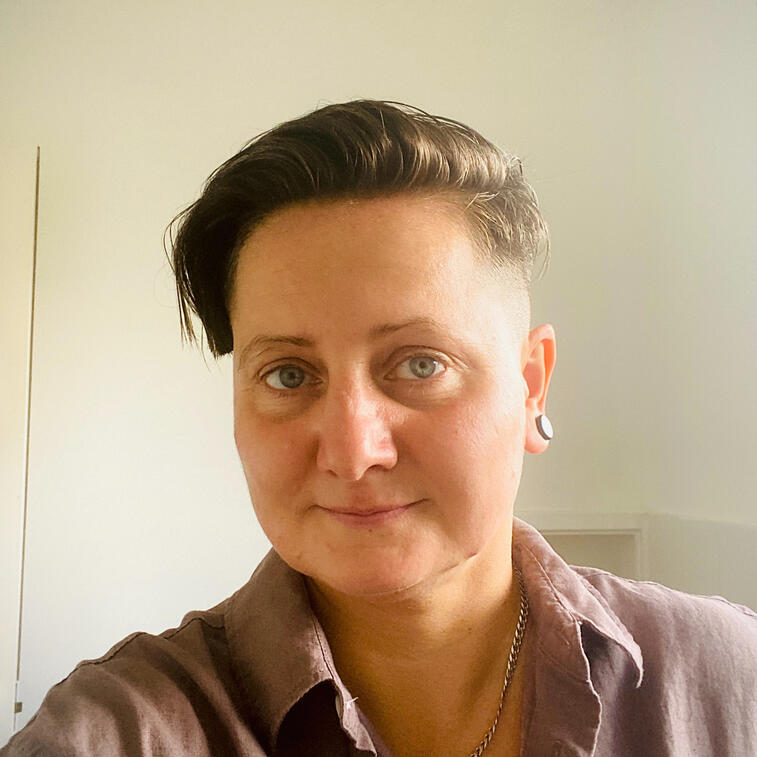 The Experience Therapy
ludmila bebjakova
Psychotherapist & Counsellor
Welcome to The Experience Therapy. I am a qualified Person-Centred therapist who works to support clients in exploring their feelings and encourage them to move towards a deep sense of empowerment and positive change within themselves and in their life.I welcome adults of all cultures and diverse backgrounds, ages, and sexual orientation.
About
I am a creative and open-minded counsellor and psychotherapist, who will work alongside you to reach your goals, whether that's about putting yourself first, setting boundaries or improving your mood. You don't have to go through your change alone.If you feel you would benefit from talking confidentially to a professional counsellor and psychotherapist in a private, safe space then maybe I can help?• In Person Therapy
• Online TherapyI follow a strict code of ethics and your dignity and well-being are my priority. I entirely respect your autonomy.Practice description:I have experience of working with gender and sexual diversity, young people and people from multi-cultural and diverse backgrounds. I offer a professional therapy space, which is friendly, calm and purposeful to voice your thoughts with warmth, empathy and non-judgment. Because each person has different issues, backgrounds and goals for therapy, the journey in therapy will be different depending on the individual needs. The space is yours.
Safe space
You might be feeling lost, continuously anxious, fearful, disconnected or feeling very low about yourself. Maybe these are just a few reasons why you are considering counselling and you would like to explore more, whether about yourself, your life or your relationship with others.I invite you to contact me so we can work on finding the cause for what's making your life difficult and perhaps hopeless. I will work collaboratively with you to explore the issues, thoughts and feelings you are having difficulties with in order to make sense of them and to make changes that will enable you to grow and feel more content and fulfilled in your life.I believe you are the expert of your life, you hold all the resources you need to navigate yourself through your path and you may just need some help and support to connect to them.Therapy can be short-term, for a specific issue, or longer-term, to deal with more difficult emotions or your desire for more personal development. Either way it is most common to schedule weekly sessions.Areas of counselling: Stress, Anger, Low self-esteem, Burn-out, Gender, Sexuality, Identity issues, LGBTQ+, Loss, Bereavement, Grief, Discrimination, Diversity, Cultural issues, Life Transitions, Immigration, Racism, Loneliness, Feeling sad, Anxiety, Depression, Self-harm, OCD, Health anxiety, Relationship issues, Family issues, Abuse, Trauma, PTSD.Gay, Lesbian, Bisexual, Intersex, Non-Binary, Queer and Transgender Allied.
Academic qualifications:• Higher Professional Diploma in Counselling and Psychotherapy, LC&CTA (Distinction)
• Graduate Certificate in Humanistic & Psychodynamic Counselling, Goldsmiths University
• Certificate in Counselling & Psychotherapy
• Certificate in Counselling Skills
• MA in Arts, Chelsea College of Arts
• BA (Hons) in Art Practice, Goldsmiths UniversityI am currently extending my training by undertaking a qualification - Diploma in Trauma Therapy.I specialise in the treatment of a range of clinical issues, including depression, anxiety, trauma, burnout, personality difficulties, sense of self and relationship issues.
I have particular interest in the work with PTSD and psycho-somatic health.Professional training and CPD Certificates in:Trauma-Informed Practice
Treating PTSD with CBT
Dissociation and Dissociative Disorders
Trauma Informed Care, De-escalation TechniquesVolunteer experience in counselling & psychotherapy:•Volunteer of Year Award 2022 - Renaissance Horizon
•Evolve Housing + Support Charity
•Teaching Assistant at LC&CTA, Level 3 in Counselling & Psychotherapy, 2021 – 2022I participated in the BACP Annual Research Conference 2022 with the group Walking Through (co-author), subject: Depression.Throughout my previous art career in various art workshops and collaborations as an Art Educator and Facilitator since 2012, I have also participated in a number of outreach events with young people who have physical, perceptual and cognitive difficulties.
Fees & Contact
I believe it is really important that you find the right therapist - someone you feel comfortable with, someone you can come to trust - therefore:
I offer a free initial 15 minute phone consultation so we can see if it feels like we'd be able to work together in a way that would be helpful for you.
Thereafter, my fee is:• £60 for a 50 minute session - IN PERSON OR ONLINE THERAPYMonday - Wednesday between 9am and 8pm.
Because I don't want cost to be a barrier to those who need help but are struggling financially, I reserve a number of sessions which I can offer at a concession.
GET IN TOUCH:luda.bebjakova@gmail.com07528085353